Welcome to BlogHub: the Best in Veteran and Emerging Classic Movie Blogs
You can rate and share your favorite classic movie posts here.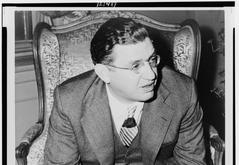 Classic Movie Hub Blog
Posted by minooallen on May 10, 2013
Happy Birthday to Classic Movie Legend, David O. Selznick, born May 10th, 1902! David O. Selznick on what I can only think of as his Producers Throne. Oh, David O Selznick. What is there to say about you that hasn't already been said a million times over. Genius. Check. Tyrant. Double check.
read more