Welcome to BlogHub: the Best in Veteran and Emerging Classic Movie Blogs
You can rate and share your favorite classic movie posts here.

ScribeHard on Film
Posted by ScribeHard on Aug 20, 2012
Are we two-thirds done already?  Sigh.  Well, let's enjoy the last third while we still have it!  Today's stars (and I mean the bloggers) look at the works of Anthony Quinn. I wonder if the H.P. in H.P. Oliver stands for Holy Participation!  With his 9th entry for the blogathon, Mr.
read more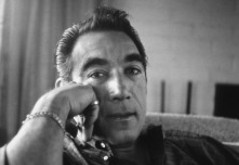 Sittin' on a Backyard Fence
Posted by Jill Blake on Aug 20, 2012
The Summer Under the Stars spotlight is on the respected Anthony Quinn. I have only seen a few of his films, so I will be glued to the television today!
read more