Welcome to BlogHub: the Best in Veteran and Emerging Classic Movie Blogs
You can rate and share your favorite classic movie posts here.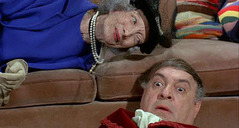 A Person in the Dark
Posted by FlickChick on Nov 14, 2019
This is my contribution to the What a Character! Blogathon hosted by this trio of magnificence, otherwise known as Aurora of Once Upon a Screen, Kellee of Outspoken and Freckled and Paula of Paula's Cinema Club. Check out all three for all character updates. Estelle Winwood Hold Me! Touch Me!
read more