Welcome to BlogHub: the Best in Veteran and Emerging Classic Movie Blogs
You can rate and share your favorite classic movie posts here.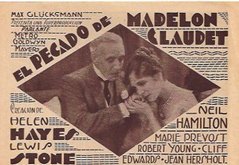 Shadows and Satin
Posted by shadowsandsatin on Mar 1, 2015
I'm going to just jump right in here. My Pre-Code Crazy pick for March (March? Geez, it was just Thanksgiving!) is The Sin of Madelon Claudet (1931). There's a whole lot of pre-Codey stuff going on in this 76-minute film. Pre-marital sex. Cohabitation without benefit of clergy. Illegitimate birth.
read more