Welcome to BlogHub: the Best in Veteran and Emerging Classic Movie Blogs
You can rate and share your favorite classic movie posts here.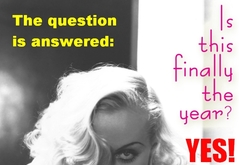 Carole & Co.
Posted by vp19 on Apr 7, 2013
It's official -- Carole Lombard is the winner of the 2013 Favorite Classic Movie Actress Tourney. And she did it in a big way, too, conquering Bette Davis, 65-28, better than a two-to-one margin.Congratulations to Carole and thanks to everyone who voted for her. More on this later.
read more