Welcome to BlogHub: the Best in Veteran and Emerging Classic Movie Blogs
You can rate and share your favorite classic movie posts here.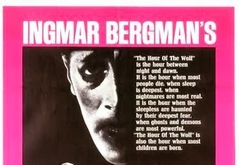 Le Mot du Cinephiliaque
Posted by Michael on Oct 7, 2013
Hour of the Wolf (Ingmar Bergman, 1968) When one gets into art house cinema masters, it is mandatory to step into Ingmar Bergman's territory. With such landmarks as The Seventh Seal, Wild Strawberries, The Virgin Spring, Cries and Whispers, Persona, and Fanny and Alexander just to name a few.
read more