Welcome to BlogHub: the Best in Veteran and Emerging Classic Movie Blogs
You can rate and share your favorite classic movie posts here.
Classic Movie Man
Posted by Stephen Reginald on Jul 31, 2020
Ronald Colman has trouble with reality in "A Double Life" Ronald Colman A Double Life (1947) is a film noir directed by George Cukor, starring Ronald Colman and Signe Hasso. The husband and wife team of Ruth Gordon and Garson Kanin wrote the screenplay. Milton R. Krasner did
read more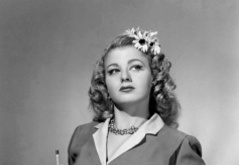 Shadows and Satin
Posted by shadowsandsatin on Nov 11, 2013
To today's audiences, Shelley Winters may be the grandmother on the Roseanne Barr comedy show, or the zaftig swimming champion who valiantly perished in The Poseidon Adventure. But back in the day, she was a gorgeous blonde whose curvaceous figure was complemented by her considerable acting chops.
read more